5 Gallon Pail Filler with Detester and Palletizer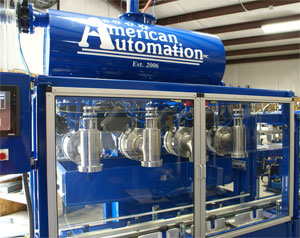 Our Eagle System is a completely automated liquid-filling system that includes a bucket de-nester, filler/capper and palletizer. It is guaranteed to fill 20 pails per minute offering best-in-class production speed. Components can be purchased separately or integrated as a complete line.
An Allen-Bradley CompactLogix programmable automation controller (PAC) controls the Eagle. The PAC manages all machine functions and seamlessly connects with other system components via the EtherNet/IP™ network. American Automation uses an Allen-Bradley PowerFlex 4M AC drive to control motor speed.  The drive is available in power ranges from 0.25 to 15 horsepower or 1.1 to 11 kilowatt at 100 to 480 volt input.
To prevent operator access to hazardous motion in the guarded area, American Automation relies on an Allen-Bradley Guardmaster® safety relay with guard-locking interlock safety function.
Because their material-handling and filling systems are integrated through EtherNet/IP™, American Automation technicians can remotely connect to customer's VPNs for time and cost-saving system troubleshooting and help during installation.
Our 4 Head Net Weight Pail Filler will fill at a rate of up to 20 ppm based on water with a product supply of 100gpm. One operator is all that is needed to monitor the filler, lid placer, lid press and palletizer. A complete line from American Automation can be run with just two operators. Automatic lid placement with pail and lid orientors. Pails and lids are oriented after filing to ensure that the bung is consistently placed 90 degrees to the handle.
Like its namesake, the Eagle system is a wonder in motion. The material-handling process begins with the denester, which separates stacks of 5 gallon buckets and places them on the conveyor belt. Pails travel down a conveyor for filling and then are routed through a rotator and lid placement area, where the capping machine presses lids on buckets. Buckets then travel to the palletizer, which automatically palletizes the pails and sends them onto the wrapper, completing the filling and packaging process.