Services Offered
liquid packaging
automatic fillers
pail fillers
palletizers
high speed filling equipment
drum & tote fillers
pail denesters
inline fillers
five gallon fillers
You might not expect to see company executives roll up their sleeves and adjust a customer's conveyor line, re-program its equipment controls or rewire an electrical panel. But then, American Automation, based in Shreveport, LA., is a little bit different than most manufacturing firms.  Brian Payne established the small, tightly knit firm in 2005 to provide automation equipment and services to liquid packaging industries.
Today, American Automation employs an experienced staff to accomplish turnkey automation projects for industrial customers across the United States, building and integrating filling equipment for oil and paint packaging systems and oil-field liquid systems.  We remain focused on building the highest quality systems backed with exceptional customer service.
"We can custom design a system around any automated process our customers want, " said Payne. "If a small operation wants to automate their hand-fill operation, we can analyze their process and automate the system to minimize the need for operator intervention."
The efficiency of the company's high-speed filling machines can surprise customers new to automation. "The first time we installed our Eagle System, the customer ran out of buckets, " recalls Payne. The customer went from filling 35 pallets to 150 pallets per day.
Their nimble size allows American Automation to complete new integration projects quickly.
Using design improvements based on the founders' own filling-system experience, American Automation has designed its signature system – The Eagle – to offer best-in-class production speed. The completely automated liquid-filling system includes a bucket denester, filler/capper and palletizer. It is guaranteed to fill 20 pails per minute. Components can be purchased separately or integrated as a complete line.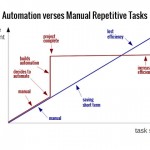 An Allen-Bradley CompactLogix programmable automation controller (PAC) controls the Eagle. The PAC manages all machine functions and seamlessly connects with other system components via the EtherNet/IP™ network. American Automation uses an Allen-Bradley PowerFlex 4M AC drive to control motor speed.  The drive is available in power ranges from 0.25 to 15 horsepower or 1.1 to 11 kilowatt at 100 to 480 volt input.
To prevent operator access to hazardous motion in the guarded area, American Automation relies on an Allen-Bradley Guardmaster® safety relay with guard-locking interlock safety function.
Because their material-handling and filling systems are integrated through EtherNet/IP™, American Automation technicians can remotely connect to customer's VPNs for time and cost-saving system troubleshooting and help during installation.
Like its namesake, the Eagle system is a wonder in motion. The material-handling process begins with the denester, which separates stacks of 5 gallon buckets and places them on the conveyor belt. Pails travel down a conveyor for filling and then are routed through a rotator and lid placement area, where the capping machine presses lids on buckets. Buckets then travel to the palletizer, which automatically palletizes the pails and sends them onto the wrapper, completing the filling and packaging process.
Manufacturers who need flexibility in production processes – or affordable component options – will find themselves in luck when they engage American Automation. "Our systems are modular and scalable, so that customers can get what they need – whether individual components or a complete, integrated system," said Payne.
Customers can also specify different levels of system integration, and a variety of filling capacities and containers. The Eagle system can fill up to 4 buckets simultaneously, and other systems can accommodate a range of needs, filling from 5 gallon buckets, drums or tote containers. Since the company uses widely available parts, end users have more flexibility when they need to reorder.